Educational games and learning activities for kids
This is the place to entertain and educate your toddlers.
Games: Here you will find games designed to stimulate learning and memory skills of a toddler. The games are meant for young kids who have just learnt about colours, shapes, alphabets. Children are happy when they are appreciated so a cute teddy bear pops for every right answer.
Learning: Young children are curious and always ready to learn. The slides are interactive and mimic the effect of flash cards. This section helps them learn about colours, shapes, alphabets, vegetables, fruits, animals in a fun way.

Games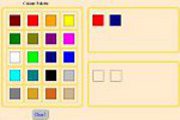 Learn
Please use a browser that supports HTML5 for best viewing.